Click here to download application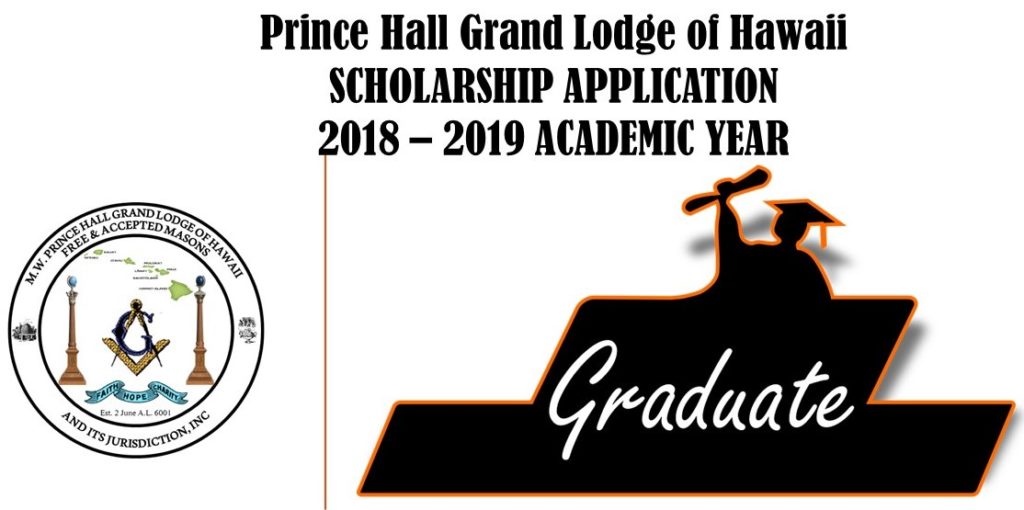 The Prince Hall Grand Lodge of Hawaii is pleased to announce the 2019 Hawaii High School Scholarship. The scholarship is designed to assist graduating high school seniors, who are actively involved in the community, financial assistance towards their post-high school educational goals at a college/university or other post-secondary educational institution.
This program will award three scholarships to student residents from the island of Oahu. Each awardee will receive $1,500 towards college tuition, books, or educational purposes.
To apply, complete an application form and submit it along with the most current official high school transcript. The deadline for submission is Wednesday, May 1, 2019. If you have any questions please contact the Scholarship Committee Chairman via email at: rwgjw@phglofhawaii.org
Procedure
Download the 2018 Prince Hall Grand Lodge Scholarship Application and complete the form and submit it with the required attachments. Applications may be sent electronically as a Portable Document Format (PDF) via email to rwgjw@phglofhawaii.org on or before Wednesday, May 1, 2019.
Submit two (2) letters of recommendation (an Academic recommender and a mentor or employer recommender). Academic recommenders are employed by Department of Education or private
institution/school. Mentors can be volunteer program managers, coaches, Big Brother/Big Sister, etc… The letters should address the applicant's experience, performance, involvement and demonstrated potential from the recommender's perspective.
Submit a recent official high school transcript. If submitted by e-mail, the transcript must be sent from your high school counselor's office e-mail address to rwgjw@phglofhawaii.org If submitted by US mail, the transcript must be official and sealed.
Submit a 450 – 550 word essay. In your essay, please address your goals, motivation to attend college/university and describe how volunteer or community service has shaped who you are today. Describe what you have learned from being an involved member of your community as well as what skills and attributes you have learned in serving others will apply to your career and life goals.
Eligibility
Must be a resident of Oahu and adolescent of a Member of the Hawaii Prince Hall Masonic Family.
Must be a high school senior during the 2018/2019 academic year and graduating from high school in the Spring/Summer of 2019.
Must be accepted to a college/university or post-secondary education institution for the Fall of 2019.
Must have a minimum cumulative grade point average (GPA) of 2.75 or higher (submission of most current official high school transcript is required).
Judging Criteria
• Academic achievement
• Community activities and involvement
• Scholastic extracurricular activities
• Work or other activities
All applications will be reviewed and rated by the Prince Hall Grand Lodge Scholarship Committee.
Notification
Final scholarship awardees will be notified after May 15, 2019.
Awards will be presented at our Awards Banquet on June 8, 2019 at the Doubletree by Hilton, Alana Waikiki Hotel, 1956 Ala Moana Blvd., Honolulu, Hawaii.
Scholarship awardees must be present and be prepared to give brief acceptance comments