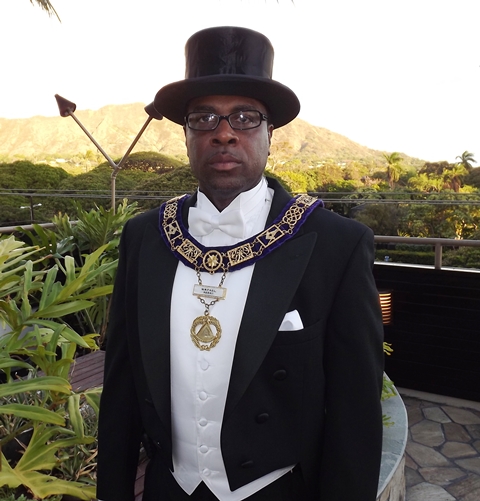 Most Worshipful Grand Master – Honorable Howard L. Covington, Sr
Ancient Craft Masonry
MWGM Howard L. Covington Sr. was raised to the Sublimed Degree of Master Mason September 20, 1995 in New Era Lodge #107, Augusta, Georgia. Through his dedication to the lodge he was appointed Junior Deacon. After being raised, he worked diligently with other lodge members to initiate a Knights of Pythagoras Council for youths in the community. He also expanded his fraternal ties and was exaltated into Hiram Chapter #15 (Royal Arch), and Dubbed in Oscar C. McComb Commandery #21(Knights Templar), created in Oro Temple #9 (AEAONMS).
Positions Served:
• Most Worshipful Grand Master (elected June 2, 2012 – Present) Hawaii Jurisdiction
• PREGC Pacific Prince Hall Grand Commandery KT Jurisdiction of California & Hawaii (22 Sept 2012)
• Right Eminent Grand Trustee (elected 2012) PPHGC Knights Templar California & Hawaii
• Right Worshipful Deputy Grand Master (2010 – 2012) Hawaii Jurisdiction
• Right Worshipful Grand Junior Warden (2008-2010) Hawaii Jurisdiction
• Right Worshipful Grand Treasurer (2007-2008) Hawaii Jurisdiction
• High Priest (2009-2010) Aloha Chapter #28, Mililani, HI (Chartered Member)
• Captain of the Host (2008-2009) Aloha Chapter #28
• Right Eminent Grand Warder (2008-2012) California/Hawaii Grand Commandery
• Eminent Commander (2007-2009) Huges dePayens Commandery #20, Mililani, HI (Chartered Member)
• Lodge Secretary (2009-2010) Daniel "Chappie" James Jr. Lodge #4, Honolulu, HI
• Worshipful Master (2008-2009) Daniel "Chappie" James Jr. Lodge #4, Honolulu, HI
• Senior Deacon (2007-2008) Daniel "Chappie" James Jr. Lodge #4, Honolulu, HI
• Worthy Patron (2008-2010) Cosmopolitan Chapter #1, Hawaii Jurisdiction
• Chaplin (2000-2001) Sunset Lodge #76 El Paso, TX
• Worshipful Master (1997-1998) Sons of Solomon Lodge UD, Camp Howze Korea (Chartered Member)
• Junior Deacon (1996-1997) New Era Lodge #107, Augusta, GA
• Chartered Member of Mount Mariah Council Royal and Select Master, Hawaii
Community
MWGM Covington has continuously shown his love for the communities and Prince Hall Masonry. He has worked closely within all lodges and constituent bodies of every jurisdiction he has lived. After being raised in New Era Lodge #107, he was an integral part in standing up Knights of Pythagoras in his lodge. He also assisted his lodge with several community service projects. He was awarded Co-Master Mason of the Year for his efforts.
During the year of 1997, he continued his dedicated service to Free Masonry and severed as Worshipful Master for Sons of Solomon UD, Oklahoma now chartered as Sons of Solomon Lodge #68. While there his lodge supported several community events with the South Koreans, but none more memorable than the time he spent at the Orphanage during Christmas.
In 1998, MWGM Covington arrived in El Paso, and he immediately became a member of Sunset Lodge #76. While there, he served as the Chaplain of the lodge. His duties consisted of ensuring cards and flowers were sent to the sick and distress. He also visited with the orphanage there as well. He along with other Master Masons would go and provide haircuts to the young boys that resided. He also visited with elderly, participated in charitable contribution events both to the civilian and military communities. During his tour in Fort Bliss, MWGM Covington served as dedicated member of his community church, and ordained as a Deacon where he severed diligently until his departure for Korea.
In 2001, MWGM Covington returned to Korea. While stationed there he participated with several lodges of multiple jurisdictions. He helped develop new Master Masons ensure that principles and values of Free Masonry were the forefront of the teachings. MWGM Covington left Korea in 2002 headed to Fort Stewart, GA. He continued his service in Masonry attending local lodge meetings and assisting in the community.
Although, he was not a member of a local lodge, he continued to display the principles of Free Masonry providing assistance where he could be best utilized. He spent two of his four years there deployed to South West Asia or in Military schools and training.
In 2006, MWGM Covington arrived in Hawaii. Again, he immediately inserted himself into the lodges and eventually became a member of Daniel "Chappie" James Jr. Lodge #4. The Worshipful Master appointed him as the Senior Deacon. Here he has participated in such charitable events as Special Olympics and Big Brothers and Big Sisters. He also spearheaded his lodges' first Mother's Day Celebration event which is now going in to its seventh year. He was also a part of fundraising committees that provided relief for distress brothers and families, local peewee football team, Tripler Army Medical Children's ward, Fisher House, Wounded Warriors of Schofield Barracks.
In 2007, MWGM Covington served as the Grand Treasurer for the Grand Lodge of Hawaii. He was responsible for the disbursement of all monies for the Grand Lodge and ensured that monies were deposited in a timely manner for the Grand Lodges use.
MWGM Covington was instrumental in bringing the York Rite body to Hawaii. In 2007, he was appointed as the first Eminent Commander for Huges dePayens Commandery. In 2008, the Commandery received its Charter, and MWGM Covington was elected as the first Eminent Commander. As the Eminent Commander, he provided leadership and guidance to the Sir Knights of his Commandery. He developed new degree standards and provided education that proved invaluable to the Commandery as it operates today. The Commandery participated in multiple community activities, but their cornerstone was the "Back to School Program" for the local elementary school by providing school supplies and backpacks to less fortunate children for the year.
In 2008-10, MWGM Covington was elected to the position of Grand Junior Warden. He was responsible for the scheduling of all activities for the Grand Lodge. Activities that included but not limited to coordinating for the annual Martin Luther King Parade, Grand Lodge Session, St. Johns Day and MWGM Hall Celebration. He also spearheaded the relief for Haiti fund, where the Grand Lodge raised over $2000 in support of the Haitian relief.
In 2008-2010, MWGM Covington served as the Worthy Patron for Cosmopolitan Chapter #1. He conducted degree work for the chapter. He participated in the fundraising events to raise monies for the Grand Chapters scholarship program and assisted in the rebuilding of the local pre-school, Kamai'ani Kids playground.
In 2009, while serving as the Grand Junior Warden, MWGM Covington was elected to the position of High Priest for Aloha Chapter #28. As the Excellent High Priest, he provided leadership, mentorship and guidance to members of his Chapter. The Chapter was involved in multiple charitable events and received Chapter of the year for diligent efforts to the community and the York Rite body.
In 2010-12, MWGM Covington was elected to the office Deputy Grand Master for the state of Hawaii. As the Deputy Grand Master, MWGM Covington oversaw the Jurisdiction and ensured all orders sent by the Grand Master were followed. He was responsible for coordinating the Pacific Rim Conference and Grand Session. He also implemented leadership training programs and training to improve on administrative functions within the lodges. During this time MWGM Covington was deployed to Iraq, and worked diligently with the staff from abroad. While deployed he worked with the local lodges, OES Chapters, Commanderys, and Royal Arch Chapters providing guidance and training. He also participated in the Christmas celebration for the local orphanage, where the lodges and chapters provided a monetary donation and gifts to assist in providing to the needs of the children.
MWGM Covington takes every opportunity to teach and promote brotherhood. He is always seeking knowledge at every opportunity to better himself and his humble craft. His dedication and love has inspired many to return to masonry and many to continue with their travels. With members being deployed, he continues to spread his knowledge to distant countries such as Iraq, Afghanistan, Korea and many others to help promote the principles and values of Free Masonry.
MWGM Covington is currently serving in the United States Military as an Active duty Chief Warrant Officer Four (4). He is stationed on Schofield Barracks serving in the 25 Infantry Division as the 25ID Asset Visibility Officer. He joined the military in March 1989.
MWGM Covington also serves as the Head Deacon at Living Temple Ministries, Honolulu, HI.
MWGM Covington currently holds a Associates Degree in Management from Chaminade University, Bachelors of Science in Management from Park University, and Masters of Science in Logistics Management from Florida Institute of Technology.