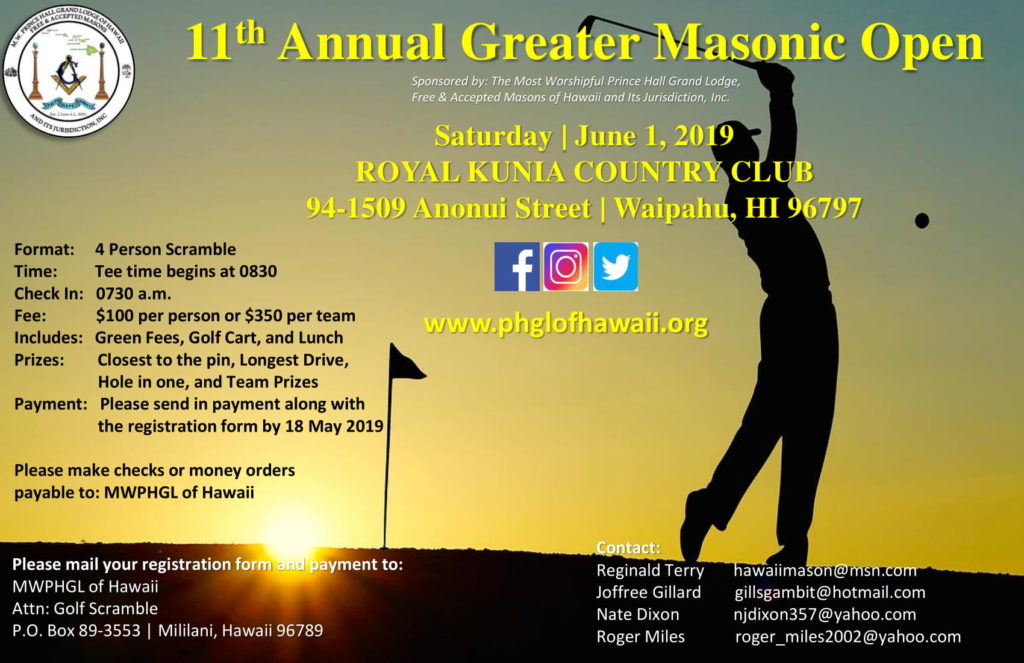 2019 Golf Registration Form (Download)
Aloha Ohana,
The Greater Masonic Open is an annual charitable golf tournament hosted by the Most Worshipful Prince Hall Grand Lodge Free and Accepted Masons of Hawaii. This year's tournament is being held at the Royal Kunia Country Club, 1 June 2019. We are a 501c(8) non-profit charitable organization that is dedicated to the service of the Hawaiian community.
Our primary beneficiaries for this tournament are the youth of our Ohana. Our efforts will go towards continuing our support of community based programs. A majority of the proceeds will go towards scholarships that are awarded to deserving High School graduates accepted to institutions of higher learning throughout Hawaii.
Our tournament is dependent upon both a high level of participation and cooperate sponsorship within the Hawaiian golf and business community. We hope that you will assist in continuing the tradition of providing scholarships to deserving members of our community. If a sponsorship is not feasible, we would graciously accept a donation of any kind; especially gift cards, room nights, special services, travel, and/or logo merchandise promoting your company or business. It is our hope that you will become a tournament sponsor and truly appreciate any assistance that you can provide to ensure our success! "Mahalo for your help."
Corporate Sponsorship
Tier 1 $1000
o Tee Placard with Ad space on Tournament Banner
o 1 team tournament entry (four players)
o A Full Page Ad in the Souvenir journal
Tier 2 $500
o Tee Placard
o ½ team tournament entry (two players)
o Half Page Ad in Souvenir journal
Tier 3 Donation of any kind
o Business card Ad in Souvenir journal
To arrange for a pick-up, please call/text Reginald D. Terry (808) 723-4280, e-mail @ rdterry0922@gmail.com or reginald.terry@navy.mil or you can reach Joffree Gilliard @ gillsgambit@hotmail.com. Cell# (808)388-5677 , Roger Miles @ roger_miles2002@yahoo.com Cell# 808-726-7854 and Nate Dixon @ Njdixon357@yahoo.com. Cell# (808)271-1792. If possible mail your contribution in by May 20h 2019 to:
Most Worshipful Prince Hall Grand Lodge
Free and Accepted Masons of Hawaii and Its Jurisdiction, Inc.
ATTN: Reginald Terry (Golf Tournament)
P.O. Box 89-3553
Mililani, HI 96789
Mahalo in advance for your support!
Most Humbly and Respectfully,
Reginald D. Terry
Golf Committee Chairman
To register your team for the tournament, click the golf registration form below: